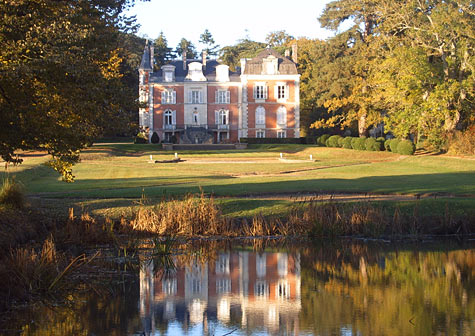 The "picture perfect" Loire Valley estate. A private 70 acre park with a jardin à la française sloping gently toward a pond and an arboretum of some 250 rare species of bushes and trees selected for their spectacular flowers. Built over 200 years ago by the present owner's ancestor and named for the quail hunts once hosted on the estate, Château de la Caillotière invites you to become l'aristocratie française for a week. Or more…
Château de la Caillotière is the very image of elegance and charm. Facades of pink brick and tuffau, the white stone of the Loire Valley. Impeccably crafted ironwork detailing the front entrance stairway and balcony. A walled vegetable garden where the gardener cultivates produce and flowers that guests are welcome to pick. A brand new tennis court and, for the children, a friendly little pony, named Oulala!
Guests receive exclusive use of Château de la Caillotière, a private villa rental in excellent condition and decorated with priceless antiques. The ground floor entrance hall opens onto the "salon rouge" with French windows on both side of the room giving direct access to the terrace. This is an ideal place to relax, read, listen to music, play the piano or play card-games.
The principal living room or "grand salon" is decorated with elegant wood paneling and 16th century tapestries from world renowned Gobelins. A marble chimney, a grand piano, a crystal chandelier, antiques and ancestors' portraits define the atmosphere of this majestic reception room.
In the dining room, the walls are covered in yellow silk damask and hung with more tapestries, providing a dramatic backdrop for the antiques and a collection of vases brought back from China by the owners.
Sleeping quarters for thirteen guests, are situated on the second floor. There are four bedrooms with queen size beds. The chambre des dames, recently redecorated with bright yellow and blue wallpaper, the chambre des illustres, offering breathtaking views onto the park, and the chambre bleue, decorated with exotic blue bird wall paper, all include en suite bath or shower rooms. The chamber des oiseaux, where avid readers will discover many books in French and in English, is bathed in morning light and decorated with engravings of birds.
In addition, Château de la Caillotière offers two bedrooms with single beds. The chambre des anges, with two single beds and recently redecorated in yellow and green, occupies the exact center of the château and therefore offers the best view of the jardin à la française. The chambre Empire, decorated in the Empire style with striking antique wall paper, has three single beds and a large en suite bathroom.
All six bedrooms in this stately château are furnished with antiques, artwork and family heirlooms resulting in elegant, unique accommodations for all of your guests. Even the most discerning will find it challenging to decide which bedroom is their favorite. Finally, on the third floor, there is a little chapel.
Once you've settled into Château de la Caillotière, you may well welcome a little rest and relaxation, but if you are ready for activity, there's plenty to keep you engaged during your stay. You are welcome to play tennis, ping pong, badminton or pétanque (lawn bowling). And children may enjoy fishing in the pond (fishing poles furnished) and riding the pony or a bicycle. Or the magnificent estate grounds offer ample venues for jogging, exploring, picnicking, sketching, painting and photographing.
Nearby you may swim at the local pool, play golf or go horse back riding. Visit picturesque villages in search of antiques or take a driving tour of the Loire Valley's numerous magnificent castles. And only slightly further away, many fascinating day trips include an afternoon of wine tasting or a visit to Mont Saint-Michel, Nantes or Angers for the outstanding Saturday morning market or 13th century tapestries in the medieval castle.
Whether you seek solace or adventure, romance or drama, luxury or charm, Château de la Caillotière offers a unique and memorable experience. From the moment you arrive and begin your tour of the estate (in English or French) until your last lazy morning, this pampered existence will seduce you. Living as the aristocratie française is habit forming! Whether you are a guest for a week or a month, you'll find it difficult to end the fairy tale and return home.
More Information
Related articles